Guide
A Guide to Nursing Homes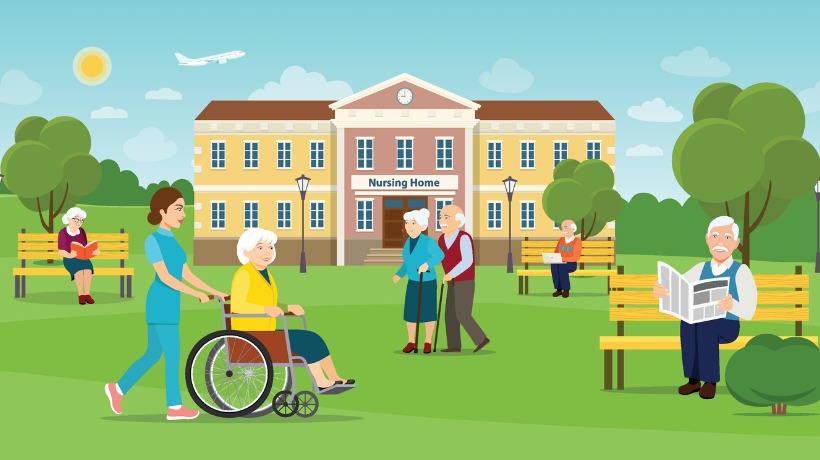 Nursing homes can provide skilled and custodial care to physically or cognitively dependent residents who do not need the intensive, acute care of a hospital yet remaining home is no longer appropriate.
Nursing homes come in different sizes and with different names. They may be called:
Care Centers

Continuing Care Centers

Convalescent Centers

Health Centers

Homes for the Aged

Living Centers

Manors

Nursing Centers
Nursing homes are sometimes located within a hospital or medical center as separate skilled nursing units. More often, nursing homes are distinct facilities separate from hospitals. Generally, the nursing home is made up of individual rooms that have one or two beds. A bathroom is usually accessible from the room but may be shared with the room next door. The facility may maintain a larger room for assisted showers and baths that is shared by several residents. Nursing homes have congregate dining areas that provide for special diets and can also deliver meals to the resident's room if necessary. There is generally an activity director employed by the nursing home who oversees an activity plan for each resident. For residents who can travel outside the facility some nursing homes have transportation available to medical, dental and other health maintenance appointments. Some nursing homes have on-site amenities such as a hair salon, exercise room and outdoor activity areas. Most nursing homes have living areas with televisions and other activities that encourage socialization.
Who lives in a nursing home?
Most homes have a mixture of residents of various ages who have a variety of health problems. The need for a nursing home is often defined by a person's need for 24-hour assistance. This assistance does not necessarily mean that he or she needs a nurse to watch over them while they sleep, but rather he or she may need help getting to the bathroom in the middle of the night. Nursing homes may have separate areas for residents more intense care needs, or those that require advanced dementia care.
Managing Your Nursing Home Experience
Transitions at any age can be stressful. Many individuals move to a nursing home following a hospitalization. But whatever the reason, it's challenging to face new surroundings and people. Here are some areas to focus on that can help make the experience go more smoothly for both the resident and the family.
1. Before enrolling in a nursing home, you should understand the residency or occupancy agreement. Confirm the following:
Date for completing admission paperwork and move-in date

Designated room and personalization of the room

Billing/payment arrangements

Patient rights and responsibilities

Grievance procedures

Refund policy

Move in/ move out policies
2. Each facility's admissions process is unique. Be aware that a facility may request information such as:
Emergency contact names and telephone numbers

Health insurance information, Medicare Card

Names of all physicians and their phone numbers

Health Care Proxy paperwork

Medical release form with physician approval to participate in facility programs

Medical record if you transition your health care to a facility physician

Medication information

The admissions process may include a health assessment by a nurse or physician
3. The facility will work with the resident and the family to prepare a plan of care.
Evaluate the amount and type of personal care assistance needed

Identify the resident's preferences

Specify how often and when the care plan will be reevaluated
4. Adapt to the new environment.

Many facilities have a welcome party or announcement about new residents. The facility may ask the resident for specific information to be shared with other residents. The first opportunity to meet other residents may be during meals. Other opportunities to meet other residents include:
Social gatherings, parties, planned excursions

The health club or recreational facilities

Community meetings
5. Understand how care and services are delivered.

Most facilities offer personal care services. Details about these services should be noted on the residency agreement. The resident should be encouraged to do as much as possible for him or herself.
6. Resident privacy and dignity should always be maintained when receiving care or services. For residents who require assistance with personal care, the following points are important, and you should consider including these on the resident's care plan:
Personal preferences about when and how frequently assistance is provided

Details on medication administration or reminders

When disposable supplies will be replenished
7. Express your concerns.

Nursing Homes strive to provide residents with the best possible care. But there may be times when expectations are not met. When a resident has a concern or is unhappy about a situation, the facility should be willing to hear and resolve the concern. Residents can refer to their patient rights and responsibilities forms to justify their arguments or use the nursing home grievance policies to solve a problem.
Generally, most issues involve some type of miscommunication between individuals. Be sure that the issues are understood, expectations are clarified, and the solution meets everyone's needs. Some nursing homes have resident councils to address issues related to the nursing home overall. Contact your state long-term care ombudsman, if you feel you need to take your concern to a higher level.
What is the cost of a nursing home?
Most nursing homes have a daily room charge for long term care. Depending on the area of the country, and the amenities of the nursing home, these charges can range from under $100 per day to several hundred dollars per day. There are usually just two rates: one for a private room and one for a semi-private room. Semi-private rooms usually have two beds but can sometime have three or four. Usually, meals are included in the daily rate, but often other services such as laundry and transportation may be extra charges.
Who pays for the nursing home?
Nursing home costs may be covered in part by Medicare or Medicaid if certain qualifications are met. Costs not covered by these benefits are the responsibility of the patient, referred to as "private pay".
Qualifying for Nursing Home Medicare (Part A) Coverage
Part A provides payment for post-hospital care in a Medicare certified nursing home with the following qualifications:
The resident must require daily skilled care which can only be provided in a Skilled Nursing Facility ("SNF") on an inpatient basis

The resident must be in the hospital for at least three consecutive days (not counting the day of discharge) before entering the SNF

The resident must be admitted to the nursing home within 30 days of her hospital discharge

The resident must be admitted to the nursing home for the same condition for which she was treated at the hospital

The resident must be certified by a medical professional as needing skilled nursing or skilled rehabilitative services on a daily basis
Medicare (Part A) may provide payment for post-hospital care in a nursing home for up to 100 days if Medicare coverage requirements are met. A resident is entitled to full coverage for the first 20 days. i From the 21st day through the 100th day, Medicare pays for all covered services except a daily co-pay amount for which the resident is responsible. ii That means the resident pays the remaining amount either with his or her own money or, if eligible, through Medicaid, or through private insurance. A nursing home resident will not be entitled to any Medicare (Part A) coverage unless he or she is admitted to a nursing home within 30 days following a 3-day hospital stay. iii
After the 100 Medicare (Part A) benefit days are over, the benefits are considered "exhausted," which means Medicare (Part A) pays nothing more regardless of the resident's condition. From day 101 forward the resident must have an alternative payment source. Medicare will only begin to pay for nursing home costs again if the resident qualifies for a new "Benefit Period." Medicare (Part A) skilled nursing facility benefits are paid based on "Benefit Periods." A Benefit Period begins the first day you receive a Medicare-covered service in a certified nursing home. It ends when you have been out of the nursing home for 60 days in a row.
Qualifying for Medicaid Benefits
If Medicare benefits are not available to cover the nursing home cost, then Medicaid may pay all or a portion of the costs depending on eligibility factors. Eligibility thresholds are determined by the state, so it is not possible to describe them here. However, determination of eligibility is made using these factors:
Age – A person must be at least 65 years old (if not blind or disabled)

Income – Monthly income must be below a certain amount

Assets – Personal asset value must be below a certain amount
Most states employ a "look back" period, which means that asset levels had to have been below the threshold for a period of time before the benefits are available.
i Centers for Medicare & Medicaid Services, Medicare Coverage of Skilled Nursing Facility Care (https://www.medicare.gov/Pubs/pdf/10153-Medicare-Skilled-Nursing-Facility-Care.pdf, Site accessed on 1/25/2022)
ii Centers for Medicare & Medicaid Services, Medicare Coverage of Skilled Nursing Facility Care (https://www.medicare.gov/Pubs/pdf/10153-Medicare-Skilled-Nursing-Facility-Care.pdf, Site accessed on 1/25/2022)
iii Centers for Medicare & Medicaid Services, Medicare Coverage of Skilled Nursing Facility Care (https://www.medicare.gov/Pubs/pdf/10153-Medicare-Skilled-Nursing-Facility-Care.pdf, Site accessed on 1/25/2022)
Find the right care options