Article
Planning for your Caregiving Role: Things that Should be Considered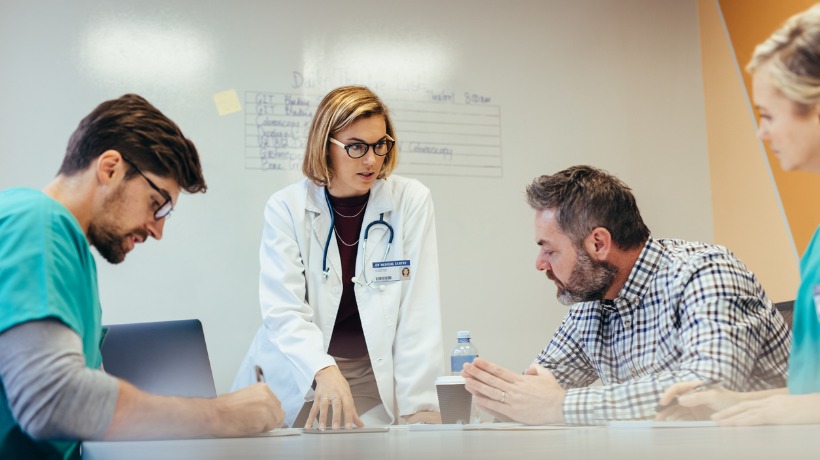 Planning is an important part of caregiving. Having conversations in advance of a crisis can reduce stress and prepare you to help your loved one. You'll likely find increased satisfaction in your caregiving experience if you can feel confident that your loved one agrees with the decisions you make and the steps you take. Some suggestions to get you started:
Talk openly about the person's situation. Identify and discuss any problems that currently exist.

Familiarize yourself with the resources that are available in your community.

Develop a plan for what will be done if the person's situation changes or gets worse. What type of problems may arise, and what services may be needed?

Discuss ahead of time if paid service providers are an option. Identify agencies that you might use when the need arises.

Identify friends, neighbors and other relatives that can help out. Find out what type of support they are willing to provide, and when they are available.

Develop a tentative schedule to be sure you could cover your loved one's needs. Give each person a copy of the plan to insure they know what is expected of them. Make sure everyone exchanges telephone numbers in case of emergencies or schedule changes.

Determine what home modifications need to be made to maintain safety and independence.

Have emergency telephone numbers posted near each telephone.

Keep a list of medical conditions and medications. Make sure that this list is in plain sight for caregivers and emergency responders.

Determine how care will be paid for should it be needed. Research public programs such as Medicare and Medicaid and how they might support your needs.

Research the types of Power of Attorney documents that are applicable for your state. Eldercare attorneys can help you understand how this works.

Discuss advanced directives, desired treatments, and end of life care.
How to Partner with your Care Provider
Getting to know your care provider can help you to be sure care stays on track. A care provider can be a home care aide, a companion, an agency, or a facility (such as a nursing home or assisted living facility). Your involvement can help a loved one achieve the best possible outcome by quickly identifying and solving care related issues.
Keep the Lines of Communication Open. Let your care providers know that you're available to answer questions, solve problems, or just listen. Determine the preferred method of communication that works best for each of you. If necessary, have someone else look after your loved one for a short time so you and the caregiver can talk privately before or after a scheduled visit. It may be helpful to establish a contact person within the care provider's administration.
Stop By Unannounced. Drop by periodically at various times of the day to see how things are going. This will give you an opportunity to observe the dynamics between your loved one and their care provider. If you don't live locally, ask a friend or neighbor who could drop by.
Ask Questions. Be sure to provide your loved one with opportunities to express concerns regarding their relationship with the care provider. Engage them in conversation, ask questions, and listen.
Keep your Eyes Open. Most caregiving relationships are healthy and beneficial; however, it's important to be aware of changes that could indicate otherwise. Be on the lookout for any changes in your loved one's physical, mental, and emotional health. Things to look for: unexplained cuts or bruises, sadness, anxiety, fear, change in personal hygiene, loss of interest, appetite or change in sleeping habits.
Set Clear Expectations. Make sure the care provider has a solid understanding of what's expected of them. Create a daily check list of tasks to serve as a reminder for the caregiver. Likewise, make sure that you understand the care provider's needs and preferences.
Consider Enlisting More than One Care Provider. Having more than one care provider provides for back-up coverage which is crucial. It can also decrease risk in care provider burn-out and have another set of eyes to observe overall wellbeing.
Have a Back-Up Plan. Care providers strive to be reliable; however, unforeseen events can disrupt schedules. Having a back-up plan to fill in any gaps in coverage will decrease the amount of stress felt by all involved.
Show your Appreciation. Acknowledge a job well done. A note or even a simple "thank you" means a lot to the care provider.
Take care of yourself
Caregiving often results in a large commitment of time and resources. Trying to balance the various demands faced by caregiving daily often results in feelings of inadequacy, stress, guilt and exhaustion. Caregivers are at greater risk for illness, depression and even mortality. To be able to maintain the role of caregiver, it's vital that you take good care of yourself. Here are some helpful tips:
Get regular exercise, even just a few minutes several times a day. Exercise promotes energy and wellbeing.

Make sure you're getting enough sleep.

Set aside at least a few minutes of quiet time each day.

Maintain a healthy diet. When you are busy, it is easy to forget to eat healthy foods.

Keep up with your own medical appointments and screenings.

Recognize stress and take steps to manage it. Your need for relaxation increases during periods of caregiving.

Watch for signs of depression. Depression is very common in caregivers. Get extra support and professional help if needed.

Lean on friends and family for emotional support.

Remain involved in hobbies and things that you enjoy.
Cycle of guilt
Feelings of frustration, helplessness and anger are common among caregivers. These feelings can arise for any number of reasons, and often result in feelings of guilt. If left unmanaged guilt can be destructive. It can negatively impact your relationships and result in feelings of inadequacy. A cycle of exhaustion, anger, and guilt often repeats itself throughout the caregiving journey. Here are some tips on how to deal with your feelings of guilt:
Acknowledge your limitations. If you try to do too much, frustration is inevitable.

Prioritize your daily tasks. Caregiving tasks are more important than household tasks. Refuse to feel guilty about unmade beds or dusty shelves.

Allow yourself to be less than perfect. Remind yourself that you are doing a very important job.

Reward yourself for your efforts.

Ask for help. Feeling guilty may be a sign that you need a break from your caregiving schedule. Others may be waiting for you to ask for their help.

Set limits. Establish clear boundaries and learn to say no.

Walk away from heated situations.

Express your feelings in a journal or diary.

Join a support group.
Ask for help
Some caregivers find it difficult to ask for help from others. But taking care of you and planning for caregiving both require support from others. Don't be afraid to ask for help. If others in your family aren't stepping up, hold a family meeting to divide up duties. People typically want to help those they care about but may not know how to. Consider posting a list of tasks for family members and friends to sign up for.
If you can answer 'yes' to one or more of the following questions, it may be time to get help:
Do I feel overworked and exhausted?

Do I feel dissatisfied with myself?

Do I feel isolated?

Do I feel depressed, resentful, angry, or worried?

Do I feel that I do not have time for myself?

Do I have no time to exercise and rest?

Do I feel that I'm neglecting others in my family?

Do I feel I'm losing my friends and other important relationships?
Often community services can provide the extra support and caregiving assistance needed. Services to consider include:
Respite care

Adult day health care

Friendly visitor programs

Meals on wheels

Support groups

Counseling
Try to connect with others that have experience with caregiving. Many communities offer a variety of support groups for caregivers, consider attending one. You may learn about other types of community services during the meeting. In any case, a support group can help you realize you are not alone. Your local Area Agency on Aging should be able to provide you with information relating to caregiver support offerings in your community.
Make extra time for yourself
In order for you to be a good caregiver, you need to make time for yourself. It's crucial that you work short and long breaks (a few minutes to several days) into your caregiving schedule. Removing yourself from the caregiving situation allows you to refuel and relax. It also allows for the person you're caring for to form meaningful relationships with others. Here are ten suggestions on ways to make extra time for yourself:
Trade a morning or afternoon a week with an alternate caregiver.

Ask several relatives, friends, church members or neighbors to relieve you for a few hours per week on a regular basis.

Research local respite services. Some are available for no cost or for a voluntary donation through community resources.

Check with your senior center or Area Agency on Aging for social programs that are supervised so you can take a break during the event.

Plan some time each day to be alone when the person you care for doesn't need your attention (while they're sleeping or reading or visiting with a friend).

Sign up for a homemaker or housekeeper. Relieving yourself of routine household chores gives you more time to attend to important care giving tasks.

Sign the person up for home-delivered meal service to avoid cooking everyday.

Enroll the person in an as adult day care program. Even a part-time placement for several hours per week can be helpful to both you and the person for whom you are caring.

Hire a private home health aide or personal care assistant for a few hours each day.

Consider an inpatient respite stay at a local facility.
Empower the person you provide care for
Doing everything for someone reinforces helplessness. Each time you do something for someone that they could have done for themselves, you deny them an opportunity to maintain their dignity and independence. The completion of tasks, regardless of the skill level required, provides a sense of accomplishment, and fosters self-worth.
Ten ways to consider using to empower the person you are providing care for (when ability is present but not used):
Expect more. People respond to expectations. If you expect someone to dress, care for plants, or prepare simple meals, they often will perform as expected.

Simplify. Divide complex tasks into steps. For someone with mild dementia, give simple commands and wait until each step is completed, such as: get out the cereal box; next, get out the milk; and then, get a spoon.

Make it easy. Find the right tools to help the person help him or herself.

Allow for mistakes or less-than perfect results. The hardest thing about letting someone do something for himself is knowing that you could do it better or faster. Mistakes are okay.

Reward both effort and results. Positive reinforcement helps a person feel good.

Let the person make as many decisions as possible about their personal needs, such as what to wear, what to eat, when to go to bed, etc.

Give the person responsibility; for example, taking care of a pet or plant. This can help the person maintain a sense of independence and self-worth.

Match tasks with abilities. Identify the person's skills and try to match them with the tasks they're most likely to be good at.

Take acceptable risks. A few broken dishes or minor scratches are a small price to pay for letting someone help themselves. You can't eliminate all risks without eliminating all opportunities.
Find the right care options